Easy Contacts Management System
So, what's wrong with Outlook or SharePoint lists connected to Outlook or any of the available titles out there? Basically, nothing.
Easy Contact Management (ECM) is a web based simple solution for those who do not plan to use SharePoint or would like to have full control over their contacts (of course, you still have the option to use BCS and view Easy Contacts from SharePoint).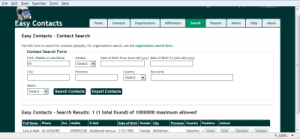 Easy Contacts divide contacts into individual contacts and organizations contacts, then creates affiliations (or positions) that connects both. Imagine a person who works for more than one organization or institution (ex. board member or consultant). Outlook has several address and contact categories (home, business, other) and for people who belong to the same institution, you get repetition (company information). In Easy Contacts, an individual is entered only once and so are institutions (except for a field for director or main contact, which can be selected from individual contacts using auto-complete, but can also be a person who is not a contact – not recommended).
Searching and reporting is also easy and flexible. You are allowed to export advanced search results for further work (ex. address labels or mail merge). Single records can be saved as vCard and a sample label is provided for copying and further formatting (font, face and order – based on locale).
Records have up to 6 levels of protection combined with 6 user roles. You can keep your sensitive contacts secure if you want. Security applies to viewing, editing, deletion, search, reporting and auto-complete suggestions.
See more in the Easy Contacts FAQ.
Categories:
General
Contacts Management