Easy Attendance
Easy Attendance is a web based attendance, leaves, overtime and vacations tracking and management system. This easy to use application does not depend on SharePoint, but uses the dot net framework as its foundation. No time clocks are involved.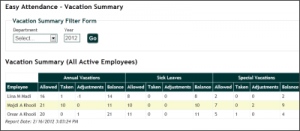 Employees can view their own records and time aggregations. They can optionally enter their attendance, leaves, overtime and vacation records as well (this may sound odd but worth trying).
Easy Attendance uses some data integrity checks to avoid duplicates. For example, only one attendance record per day per employee and vacation start date is unique per employee. Also, vacation days balance is checked before a record is saved.
For the HR admins, you get a snap shot of the attendance status for all employees or per department on any day, or during any month for an employee. The same is true for leaves and overtime. Vacations are listed summarized per employee per year or for a department or all employees (crosstab summary).
You can find more in the Easy Attendance FAQ, including how to download, install and register the application. The free version is limited to 10 employees.
Categories:
General
Easy Attendance, Time and Attendance, Timesheet